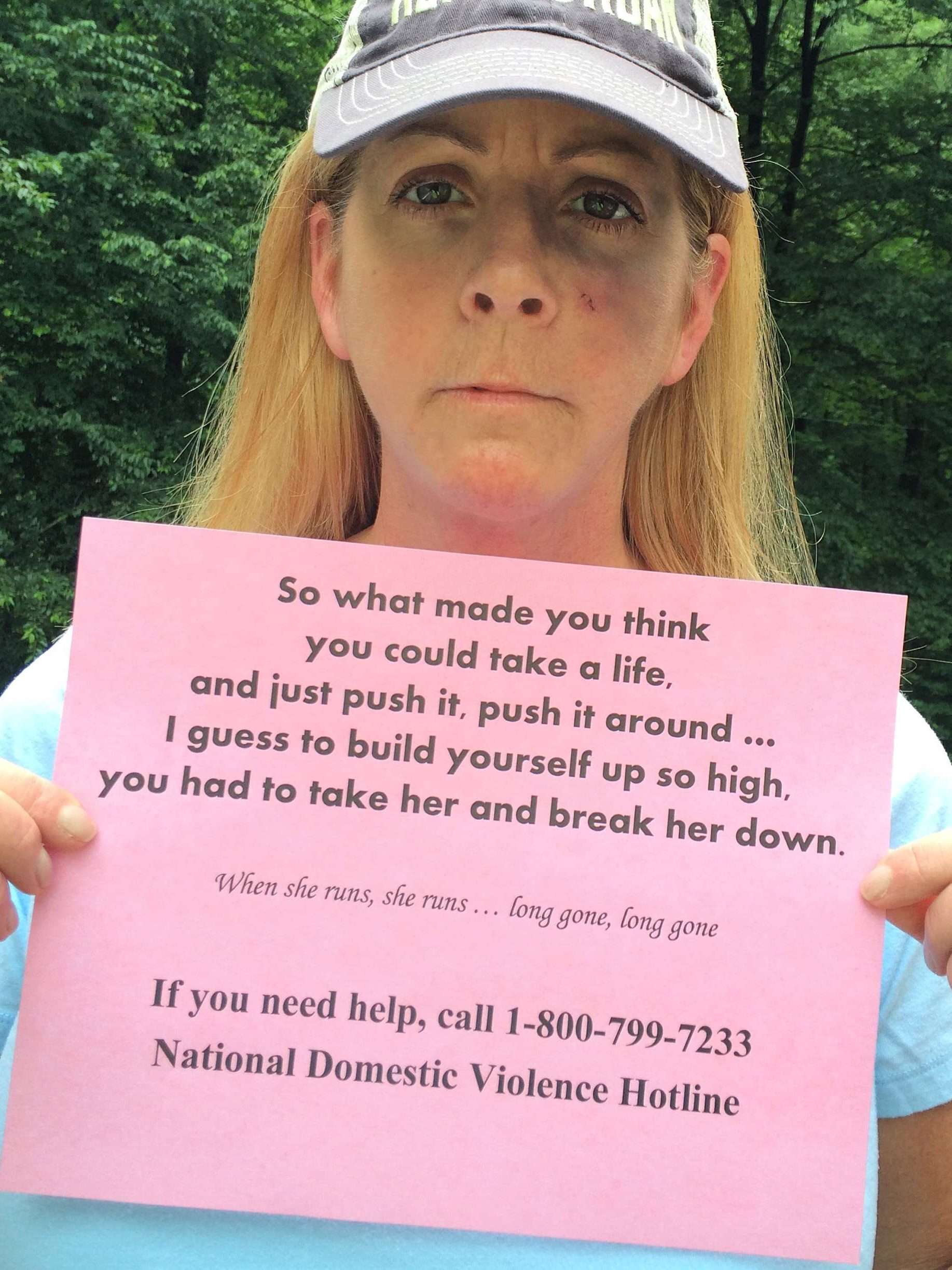 A survivor of extreme domestic violence, Amy Coryer Miller is now a claims consultant and an advocate for victims of domestic violence, and she provides a haven for injured and abused farm animals.
"A lot of women stay with their abusers because they can't leave their pet," Amy says.
Amy experienced extreme domestic violence from her first husband. In 2006, she had to go into hiding for a year to escape her horrible situation.
"When I planned my escape, I worked through the Pennsylvania Coalition Against Domestic Violence (PCADV), and we picked a state where I had no connections," Amy says. "You have to go where no one knows you and you drop off the face of the earth."
With her five cats, Amy packed up and fled the state. When Amy reached a safe shelter, the staff told her she could not keep her cats and that she would need to surrender them to a humane society if she wanted to stay.
"That was a no-go for me," Amy says. "So, I ended up having to stay in a hotel, which depleted all of my monetary resources. Once you're underground, you can't use credit cards or anything."
After this experience, Amy vowed to open a pet-friendly domestic violence shelter so women would not have to choose between safety and their beloved animals.
When Amy finally felt safe to come out of hiding, she received training to become a counselor for domestic violence victims and volunteered with the PCADV and served as a legal advocate.
"I helped women prepare protection from abuse orders, and I would go with them to court to hold their hand and comfort them because that's a very scary experience because your abuser is there," Amy says.
Amy also decided to train in personal protection use of firearms to better protect herself in the future. The personal protection training eventually gave Amy the confidence to face her fears regarding her abuser and move on.
This training may have saved her life because Amy's abuser began stalking her shortly after she came out of hiding and came after her.
"My abuser broke into my house," Amy says. "I heard him crash through the front door, and I was in my bedroom. I always kept my bedroom door locked, but I hit the ground on my knees with my firearm pointed at the bedroom door.
"When he crashed through that door [and saw the gun pointed at him], it scared the living heck out of him. He turned around and ran."
Having the training and confidence to wield a firearm, Amy successfully scared her abuser without firing a shot. Still, Amy had no qualms about using it if provoked.
For this reason, Amy firmly believes domestic violence victims should receive personal protection training on firearms.
Even though the pain Amy experienced from domestic violence was excruciating, she does not regret what happened.
"I strongly believe it happened for a reason," Amy says. "If I didn't experience that, then I wouldn't be able to help other women experiencing [domestic violence]."
Amy's long-term goal of having her pet-friendly domestic violence shelter started to become a reality a couple years ago when Amy and her second husband started the planning process. The shelter is called Safe Haven at Whispering Oaks.
"We've gotten a lot of calls from women in the county," Amy says. "There are a lot of women who need our help."
The shelter will not be a run-of-the-mill short-term concrete building filled with cots. Instead, they are building individual cabins so each family can have its own.
"A lot of women stay [in their violent situation] because they don't feel like they can support themselves or their children," Amy says.
To ensure a safe and prosperous future for the women who come to her for help, Amy plans to have her shelter be a long-term haven that provides legal advocacy and career counseling.
It fills Amy with a sense of fulfillment to see and help women escape abusers. According to Amy, most domestic violence victims return to their abusers.
"What gives me joy is when a woman is one of the [few] that frees herself from [the domestic violence] and [can] not be subject to that anymore," Amy says.
Amy admits that domestic violence advocacy work is emotionally challenging, especially when children are involved. The most difficult part is when Amy sees women return to the devastating situation.
"It's very heartbreaking; it's discouraging," Amy says. "I think, 'What did I say or not say that could've made a difference?'"
Not only is Amy building a pet-friendly shelter for women, but she and her second husband also have a shelter for injured and abused farm animals.
"I had a pretty rough childhood," Amy says. "I had a stepfather who was extremely abusive. He was violent toward animals and [abused them] in front of me. So, I became a protector of animals at a very young age."
Since Amy and her husband own a small ranch, they have set aside space to rescue injured and abused farm animals.
In most cases, Amy rehomes the rescued animals. However, some critters she becomes too attached to and decides to keep.
"We had some donkeys come in that were near death; they were severely emaciated," Amy says. "Once they healed, there was no way we could part with them. We didn't want to risk someone taking them and the same thing happening to them."
Even though Amy cannot take in every animal she finds, she will find a nearby shelter that can.
For example, one day while driving through town, Amy witnessed a vehicle hit a black vulture. Amy pulled over to rescue the vulture and found the nearest shelter that could care for it.
"Any animal I come across that is in distress — and the good Lord brings at least two or three a week — I'll get it help," Amy says.
What Amy loves most about helping animals is preventing as many as she can from suffering. The most difficult part of rescuing animals is coping with cases where the animal cannot be saved and requires euthanization.
"Sometimes, it's the right thing to do," Amy says. "But it still breaks my heart."
Not only does caring for animals take an emotional toll, but it is expensive, too. None of the vets in her area provide free or discounted services for animal shelters. So, Amy has to pay full price for any vet services her animals require.
"People who have the heart for animals have to have a big pocketbook," Amy says.
On top of all of Amy's advocacy work, she has a full-time job as a claims consultant working in-house for Intact Insurance in a semi-retirement position.
Amy began her career as a claims adjuster for the United Services Automobile Association (USAA) in the 1980s. Thirteen years later, Amy decided to go to law school. After graduation, Amy went into private practice.
Amy's career began by handling personal claims like auto and homeowners claims.
Eventually, she joined a law firm that handled civil rights claims, which initially terrified Amy because she was unfamiliar with that practice. However, after the managing partner of her firm requested Amy's assistance with a civil rights case, Amy loved it so much that she only wanted to do civil rights cases after that.
"It was exciting, and it felt like I was making a difference," Amy says. "Whereas, handling auto claims felt like I was working at a mill.
"Most of my time in private practice was spent defending law enforcement officers in civil rights claims. My passion has always been law enforcement and defending law enforcement officers."
Although Amy only handles the insurance side of civil rights cases now, she still finds happiness in her work, knowing she is continuing to help law enforcement officers somehow.
Weekly, Amy works about 60 to 70 hours, which is the most challenging part of the job. A day's work may last 10 to 12 hours, and she has to work weekends often.
"It's a stressful and high-energy career," Amy says. "Work and personal life balance is hard."
To balance all her roles, Amy wake up early every day to ensure she also has time for herself, her spiritual practice, her husband and the animals.
"God is my primary source of inspiration," Amy says. "Without God, I wouldn't be where I am today. He is my strength."
Establishing her shelter for domestic violence victims will be Amy's proudest achievement.
"I truly believe the shelter is God's purpose for my life," Amy says.
To get involved in rescuing animals, Amy encourages others to search their local areas for shelters because they always need volunteers. To start an animal shelter, Amy says plenty of resources are available, and shelters are willing to guide people through that process.
For women interested in becoming domestic violence advocates, Amy says to call your state coalition's office against domestic violence to find out where to go to receive training locally.
Amy does not want to discourage anyone from becoming a lawyer, but she does warn that it involves a lot of schooling, and the 2022 job market has been unfavorable.
"Women don't have to choose one thing in life," Amy says. "I encourage all women to pursue their passions without fear."
Check out the website for Amy's shelter, and follow her on LinkedIn.