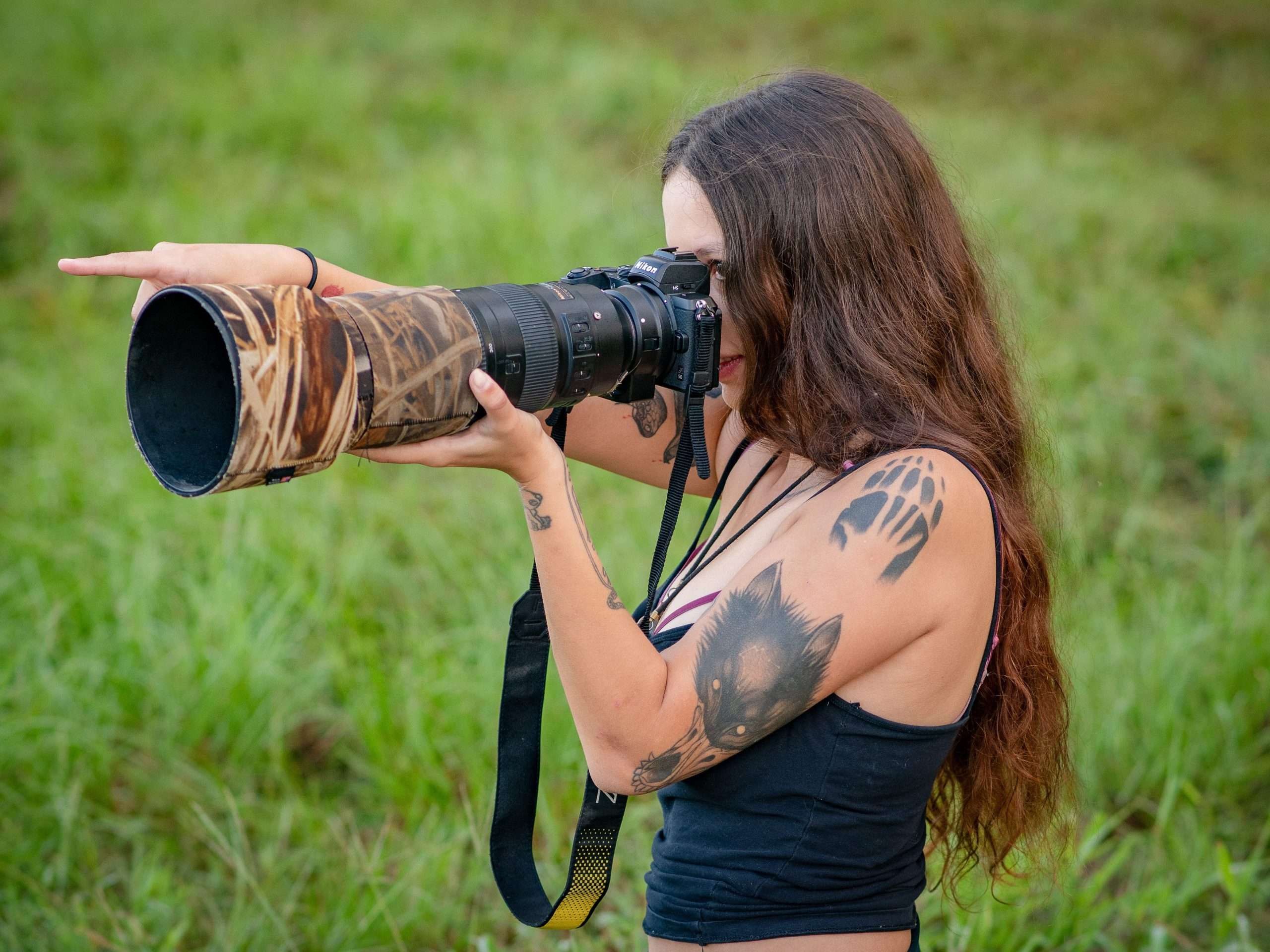 Ever want to see a bear or wolf up close in the wild? You can go on one of Aspen Stevanovski's wildlife tours and see for yourself.
Aspen is a canid researcher, wilderness guide, and photographer living in North Carolina.
She has always loved animals from a very early age. Her second word after "mama," was "doggy," she says.
Growing up, Aspen knew that one day she would want a career working with animals.
"I wanted to be a veterinarian, but I'm not good at chemistry or math," she jokes.
Aspen attended Wake Forest University in North Carolina where she studied biology. She completed her undergraduate research project about gray wolves and their relationships with livestock.
While in school, she had the opportunity to study in Tanzania, working with predator animals like cheetahs, lions, hyenas, leopards and African wild dogs. This trip solidified her passion for studying predator carnivores, and she gravitated more towards dogs, also known as canids, mostly because she was around them more back home in North Carolina.
Aspen became especially interested in wolves and coyotes one day while doing research on her own time. She learned that these canids often get a bad reputation, when in reality, they are not the killers people think they are.
She reports that there are only two recorded instances of coyotes killing people in history.
"Wolves are not 'the big bad wolf' creature that people think of," Aspen says. "They very rarely hurt people. They're very very shy. They're important to our ecosystems."
Aspen spent a lot of time outdoors in college, and she taught herself how to track the coyotes living around her campus.
She was able to put these skills to use during the COVID lockdown, giving virtual talks for her neighborhood to educate them about the coyotes living near them.
Aspen says one pair of these coyotes had made a den near an residential area with children, so she spoke to the neighborhood to teach them how to safely co-exist with the animals.
She made a name for herself as the local "coyote lady," she says.
Aspen has even been hired to speak at a child's birthday party. A little girl at the party was especially excited about a deer jawbone that Aspen brought for educational purposes. Aspen ended up letting the girl keep the jawbone because she was so interested in the lesson.
Recently in the past year, Aspen worked for a nonprofit organization called Wildlands Network, where she helped maintain trail cameras and identify animals that were caught on the camera.
This was part of a project looking at relationships between red wolves, an endangered wolf species, and other animals around a refuge.
This experience inspired her to try something new and become a wilderness guide, educating the public about local animals.
"I love talking about animals, I love teaching about animals, and I love watching animals, so I thought I might as well try to be a wildlife guide," she says.
As a guide and educator, it has been rewarding for Aspen to have conversations about wildlife and to change people's perspectives on coyotes and wolves.
She hopes to give people the chance to learn about wildlife in an ethical way. She loves seeing people's eyes light up when they get to see a bear or wolf up close in the wild.
Aspen has also become interested in wildlife photography, a way of "telling stories of wildlife from a different point of view," she says.
She uses a long camera lens to capture wildlife from afar, for the safety of herself and the animals.
Compared to portrait photography where you can have control over the lighting and your subject, wildlife photography can be a whole different beast. You never know what photos you are going to get outside and with wild subjects to photograph.
"It's not scary at all. The scariest thing I've encountered is a human," she jokes.
She has taken breathtaking photos of red wolves, bears, snakes, eagles, and more. Her photo prints are all available for sale on Etsy.
For Aspen, it has been challenging to work in a field that is generally underpaid. This is part of why she started wilderness guiding, so she could set her own rates.
"I do stuff I love, and sometimes that means hopping around to different jobs," she says. Sometimes that means having to do a couple jobs at one time, but at the end of the day, I'm doing something I love, which is much more worth it than having one job that I hate."
"Never ever sell yourself short. You're worth a lot, and don't accept pay that you don't deserve. Keep looking."
Aspen hopes to continue wildlife guiding and building her client base. Moving forward, she wants to work more with kids in schools.
She also recently got married!
"Women are so much more than one label. You are great at multiple things, and the cumulation of all those things together is what makes you super special," Aspen says.