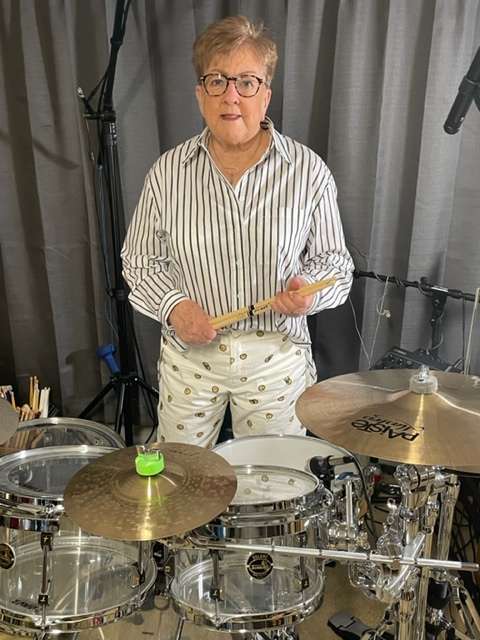 You may know Dorothea Taylor from her popular drumming videos on TikTok, where she has made a name for herself as "The Godmother of Drumming."
Two years ago, Dorothea's grandson encouraged her to post videos online, and by the time she posted her third video, she went viral.
She now has over one million TikTok followers and 377,000 followers on Instagram.
Her online presence has led to multiple television appearances, including drum battles on The Tonight Show with Jimmy Fallon and Nick Cannon's talk show. 
Dorothea has been playing drums for over 50 years and has no plans to stop anytime soon.
She first picked up her sticks when she was 13 after hearing her school's drumline practicing. 
"Back then, you didn't really see many girls playing drums," she says.
For six years, she participated in a marching, drum and bugle corps in her Michigan hometown, where she learned her technical, high-level drumming skills. From there, she taught herself how to play on a drum kit and, at 17, she started playing in bands ranging from polka music to rock & roll. 
Dorothea has played in bands and musical theater productions, and she even had the opportunity to play percussion on stage with singer Ray Charles.
When Dorothea is not on stage, she is teaching the next generation of talented drummers. She has spent many years working at her local schools to assist marching band drumlines and concert percussion ensembles. 
Dorothea also gives private drum lessons from her home and adjusted to teaching virtually due to the pandemic. She is an instructor on Drumeo, a website for online drum lessons.
It has been a joy for Dorothea to watch her students grow up and continue with music. One of her students moved to Nashville and went on tour with country music artist Craig Morgan as well as Ricky Skaggs, an American bluegrass musician.
Dorothea is also a mother of three children and a grandmother of two. One of her grandkids loves playing drums, too, and started playing at just 18 months old. Musical talent definitely runs in this family.
"When everyone's visiting, they'll get behind the drums and we'll jam," she says.
Dorothea's success and love for her craft is a reminder that it is never too late to do what you love.
"One of my students is 72," Dorothea says. "They're having the time of their life learning how to play drums. They absolutely love it."
There was a time when Dorothea felt outnumbered by the number of men in the bands she had been in, and the music industry in general. An obstacle she faced was "feeling like I never got chosen for a big famous band or on tour with anyone because I was a female," she says.
Nevertheless, she is grateful for the career she has had, and her videos have been a way to show other women that they can drum, no matter their age or background.
"We can do more than one thing," Dorothea says. "I can be a wife, a grandmother and still a drummer."
Dorothea plans on drumming for as long as she can, and she is having the time of her life doing so.
"When they bury me, I want there to be drum sticks in my hands," Dorothea says.
Watch Dorothea's outstanding drumming on TikTok, Facebook and her YouTube channel!