When Heather Bellegia was about 6 years old, she wrote in her diary that she wanted to become a nurse someday.
As she got older, she started considering other paths like becoming a veterinarian or a flight attendant — careers that involve helping others. But nursing was always at the forefront of her aspirations.
Her mother was a nurse too, and Heather became more and more interested in the medical field. She decided to take the route to nursing.
About a year and a half ago, she became licensed as a certified nursing assistant, working in a progressive care unit, also called a step down intensive care unit. Heather gravitated toward working in ICU units because of the fast-paced working environment.
Heather was thrown into work in the midst of the COVID pandemic. "It was rough," she says. No matter how hard you study in nursing school, nothing can really prepare you for a pandemic.
She says she couldn't have made it through without her supportive staff and coworkers she has met to help her as a new nurse.
"I love my job. It's like a second home. I wouldn't change it any day," Heather says.
One of the most rewarding parts of nursing for Heather is seeing her patients recover and go back home.
"I have a lot of personal moments with patients. It makes it worth doing — those little reminders that what you do on a daily basis, no matter how small, you can make a difference."
Before starting her career in nursing, Heather started modeling around the age of 14.
A small t-shirt company had reached out to Heather online about promoting their clothing. They offered to send her a free t-shirt for her to model on Instagram to promote the brand.
"I just took pictures with a camera inside my house, and I had no idea what I was doing, just doing what I thought a model would do. It kind of stemmed from there."
Overtime, Heather began building up her modeling portfolio. She started collaborating with a photographer she knew and modeled swimwear for multiple brands.
Her photos began to go viral, allowing her to gain more recognition and future modeling prospects.
Since then, she has modeled for editorial, commercial, print, and on the runway.
During her freshman year of college, she came across an online ad for a Los Angeles Fashion Week runway show, which was accepted to walk for.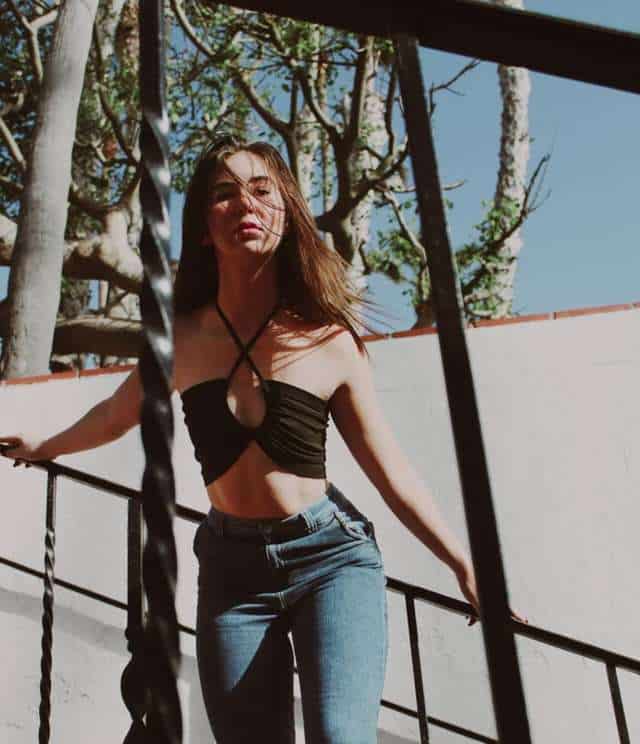 "I felt at home on the runway, under those lights. For a few moments on the runway, everything just stops," she says.
After this experience, she began doing more and more runway modeling. In 2018, she had the opportunity to walk in New York Fashion Week for two designers.
Heather says it can be difficult working in an industry that is solely focused on appearances. There are a lot of expectations placed upon models — being the "perfect" size or having the "perfect" look.
When working with one designer, Heather had a hard time fitting into some of the pieces due to her petite size. The designer told her "I didn't want a size zero in my show."
"That totally shattered me," she says.
But the two of them were able to make it work, turning the jacket she was supposed to wear into a dress instead.
Her family cheered her on from across the country in California, which helped her make it through the show.
"When I did New York Fashion week, they had a watch party — my grandparents, my aunts and uncles, my cousins. It was really cool because they could see me walk the runway from across the country," Heather says.
Heather has considered pursuing modeling as her full-time career, but she can't see herself leaving nursing and wants to pursue her career in healthcare further.
She is currently working towards her bachelor's degree in nursing and hopes to use her degree to go into research, specifically in the realm of epidemiology.
"I want to make a difference," she says.
Heather says she may decide to go back to school in the future to become a nurse practitioner. She will also continue to take on modeling jobs when she can.
For other women following multiple career paths, Heather says to keep striving no matter how hard things can get.
"Do what you want to do. If it makes you happy, that's the goal," she says.
"You can be two things at once that have two completely different worlds, but you collide them into one beautiful thing, which is yourself."