Though Jaida Elcock has lived in landlocked states her whole life, she is studying some of the most fascinating species in our oceans: sharks.
As a kid, everyone around her knew she would someday become a scientist working with animals. She spent a lot of time observing the animals outside while growing up in Illinois and Arizona.
This sparked her interest in science, and by the time she finished high school, she knew she wanted to pursue scientific research and eventually earn her PhD.
It was not until college when Jaida became increasingly curious about the ocean. She attended Northern Arizona University, where she majored in biology and took classes focused on wildlife. While at this school, she completed an internship at OdySea Aquarium in Scottsdale, Arizona. This was her first hands-on experience with marine life.
When she did not have access to the ocean herself, Jaida utilized books, documentaries and research articles.
"The more I learned, the more complex my questions became, until science didn't really have answers for them," Jaida says. "I figured I have to be the scientist to find out some of these answers."
Knowing she wanted to pursue research in shark science, she asked one of her professors about where she could find work in a laboratory. This professor, Dr. Alice Gibb, gave Jaida the opportunity to analyze videos of elongated fish in her lab and observe their swimming patterns.
After this opportunity, Jaida went to Friday Harbor Labs in Washington for a summer, where she worked on skate egg cases. She helped collect and analyze data from egg cases in two different bodies of water, comparing them and answering scientific questions about them.
This research was recently published in a manuscript, where Jaida is the second author. It is her first publication on elasmobranchs — sharks, skates and rays.
Jaida is currently in her second year of completing her PhD at Woods Hole Oceanographic Institution in Massachusetts. She received the Dr. Nancy Foster scholarship from the National Oceanic and Atmospheric Association (NOA), a very competitive award and proud achievement for her.
"This whole path to get where I am now started with a lot of curiosity about science and wildlife, and the fact that I was able to explore the environment in the places that I lived [without] access to the ocean — curiosity took hold and I wanted to learn more and more," Jaida says.
Jaida plans to write her dissertation on basking sharks, the second-largest living fish. With her PhD, Jaida hopes to continue pursuing shark research.
Along this journey into shark science, Jaida began posting animal fact videos on TikTok in January 2020. It began as a side hobby while she was working as a lab technician, and one of her friends encouraged her to post one of her videos on her Twitter account. People loved Jaida's educational content, and she began posting everyday.
Her Twitter page has grown to almost 30,000 followers along with her 44,000 followers on TikTok. But it is not all about the follower-count or fame for Jaida — she is simply proud that she can educate a large audience and get them excited about science. She loves being a part of the online science community and being a role model for other women.
About two years ago, Jaida co-founded the nonprofit organization Minorities in Shark Science (MISS), along with three Black, female shark researchers. Their mission is to break down social and financial barriers to shark science while also promoting diversity and inclusion.
"We founded [MISS] because we were sick of being the only Black women in a room full of our colleagues," Jaida says.
Shark science, as well as other STEM fields, tends to be a white, male-dominated field, and Jaida's organization aims to provide a welcoming place for female scientists of color.
MISS provides resources like internships and workshops for students as well as hands-on work with sharks. It gives students the opportunity to learn about a career in shark science and how to navigate academia.
The organization has over 500 members around the world from 40 different countries.
They have also partnered with National Geographic, who was able to help members of MISS appear on the network's SharkFest television shows.
"It's nice to be able to not only give a voice to the members that we have, but also allow them to be the representation for the little kids that look like them," Jaida says.
Jaida hopes to one day host her own science-related television show on National Geographic or Animal Planet, where she can provide education in an entertaining way.
"I don't see very many Black women on TV with nature shows," Jaida says. "I think it would be cool to potentially be one of those people in the future and hopefully inspire young kids of color."
Jaida has struggled with imposter syndrome throughout her career. Having people in her life support her goals and aspirations helps to combat these feelings of doubt. We can also be our own hype teams.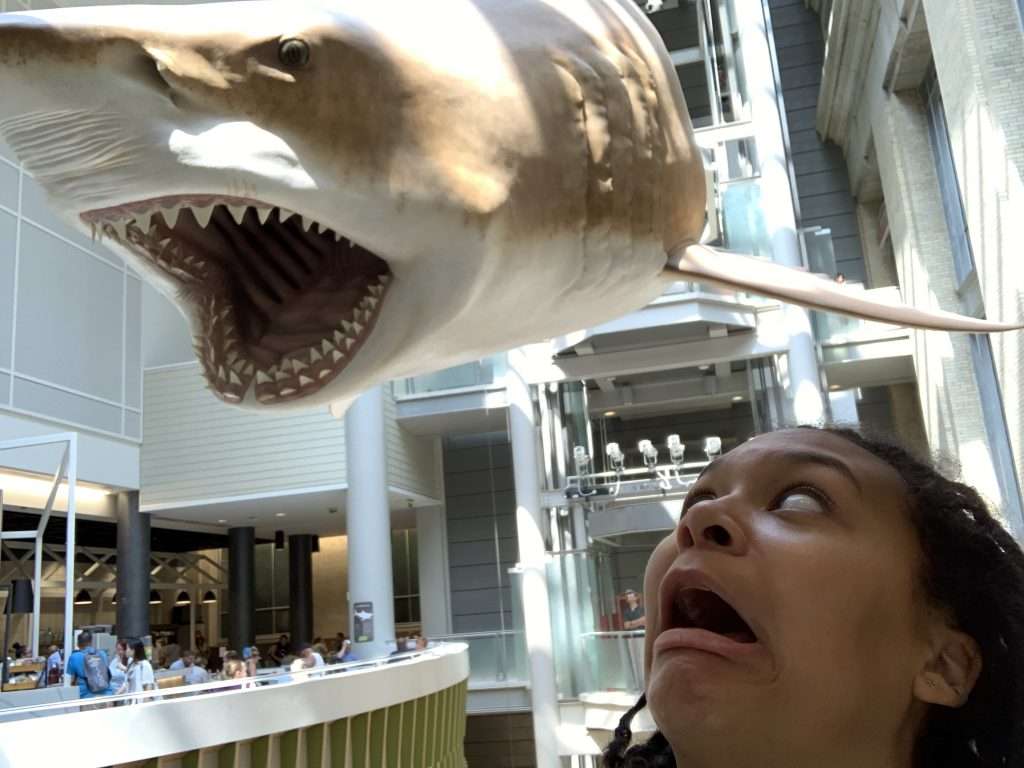 "It's a frustrating thing to deal with — doing your best and your brain constantly telling you that it's not enough," she says. "The way that I continue to overcome that is reminding myself of all of my achievements. Be proud of yourself [and] recognize and acknowledge the little wins that you have.
"In life, people look at women and think, 'You can't do all these things. You can't be a woman and smart,' and I'm like, 'Watch me.'"
Check out Minorities in Shark Science on Instagram, Twitter, Facebook, TikTok, and Linktr.ee.
You can also find Jaida on Instagram!