During the week, Jess Wicks is a high school teacher. On weekends, she spends her time creating recipes and content for her Instagram page and her small business, Sourced Sustainability. 
She lives in New South Wales, Australia with her partner Rob. The two are passionate about having an eco-friendly and sustainable lifestyle, so they created Sourced Sustainability where they sell sustainable products. 
Jess teaches personal development, health and physical education (PDHPE) and biology at a high school in New South Wales.
Q: When did you know you wanted to be a teacher?
I think I knew when I was finishing high school. I really loved PE [physical education] — that was my thing. I wanted to keep going with it and teach it to other people.
I finished high school, went straight to [university], did my teaching degree and I started teaching when I just turned 22. I've been teaching for five to six years. 
Q: What's your favorite thing about being a teacher?
I love when you've taught something and you can see the growth in the students. That's probably the best part.
It's fun building relationships. I love that everyday is different. You have different classes. The students that show up are different each day. I'd hate to work in a job where it's the same thing over and over again — it just wouldn't be for me.
Q: What is an obstacle or challenge you face as a teacher? How do you overcome it?
It can be a little bit tough in classes with students who don't want to learn PE, or they're not active or they don't care.
At the moment in New South Wales, and I think across Australia, there's a massive teacher shortage. I think every teacher understands that it's a very hard time to be a teacher. We're picking up work from the absent teachers as well as our own, so the workload at the moment is really massive, which is stressful.
The way that I overcome it is when I come home, I try not to take work home with me. I just try to leave it at the gate at school, come home, enjoy my life at home, go to the beach [and] spend time outside. If I was to bring work home all the time, I think that I would then find my home life really stressful as well.
Q: What's something you want everyone to know about teachers?
When COVID happened and people were learning from home, I think a lot of parents realized how hard it is to keep kids engaged and keep them present with the work they're doing.
It was interesting to hear feedback from a lot of people saying, "No, take them back! We don't want our kids at home. We don't want to have to teach them ourselves because it's hard."
We've got 30 kids in our class, so we have to try and make sure every student is learning.
Q: When did your vegan, eco-friendly journey begin? What inspired you to share it on social media?
[My partner] Rob and I decided to go vegan three years ago. We were passionate about the environment — we love going to the beach, [we] love being out in nature and we started to learn more about agriculture and the impacts it has on the environment.
I just found it really fun recreating all the meals I was eating before and vegan-izing it and making it delicious in its own way. I found it really enjoyable and I was like, "Why not just start up an Instagram page and start sharing my recipes?"
We've noticed so many changes in our own health. Now I have so much more energy, and I feel so much better in my own skin since going vegan. I just wanted to share that and try to encourage other people to start adding more plants [in their diet].
A year and a half later, we decided to stop buying food in plastic containers. I didn't want to be responsible for any more plastic going into the planet, particularly the ocean.
Going vegan was way easier than going plastic-free. My Instagram page has been there to show how I've been evolving and changing along the way.
Q: What is Sourced Sustainability and when did you and your partner start this business?
It was our side hustle, our little project we started during COVID. We sell a lot of eco products — things that are normally made from plastic, like toothbrushes, containers, razors, shopping bags [and] dish brushes. [We sell] a handful of products to try and start people on their eco journey, starting to reduce, making those small changes. We wanted to be the people who could [help them] start their journey.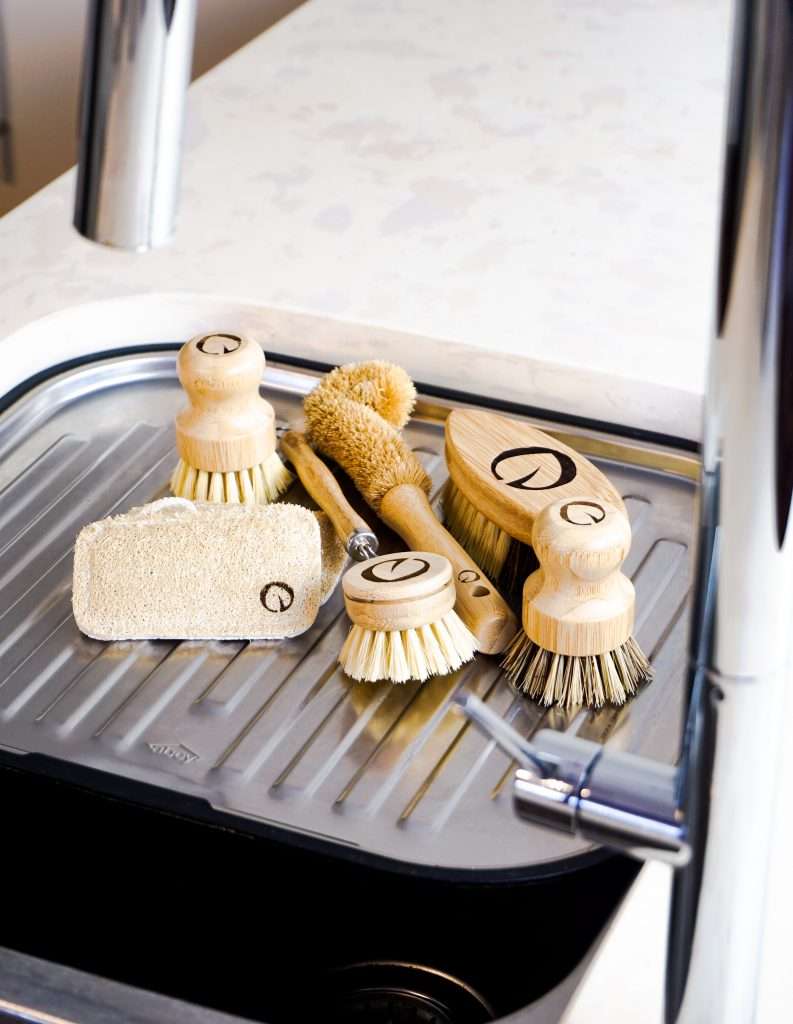 Q: What is one step everyone can take to be more eco-friendly in their daily lives?
I think the biggest thing is just being conscious of it. [Being more eco-friendly] is not something you can just do overnight. You have to learn along the way.
If you think about the product that you're about to buy — firstly, where did it come from? Did it come from a factory that would have released carbon into the atmosphere? Is it made from fossil fuels? And then what's going to happen to it once I'm finished with it?
If you find that you use a plastic toothbrush, and you [realize], "Oh, I need to buy a new toothbrush," it's at that stage that you try and find an alternative to that. It's just about making those small steps each day, being more conscious of it and just reducing. 
We buy so much stuff that we don't need, and a lot of it we can get second-hand as well. Even if you do need to buy plastic, have a look on Facebook marketplace and thrift stores.
Q: What are your future plans and goals?
We're getting married next year in September!
Q: What advice would you give to other women based on your experiences? 
Make sure that you are focusing on yourself every day. Spend some time just for you — go for a walk, do some exercise, go outside. Try not to get too consumed by all of the things you need to do and take a step back to relax.