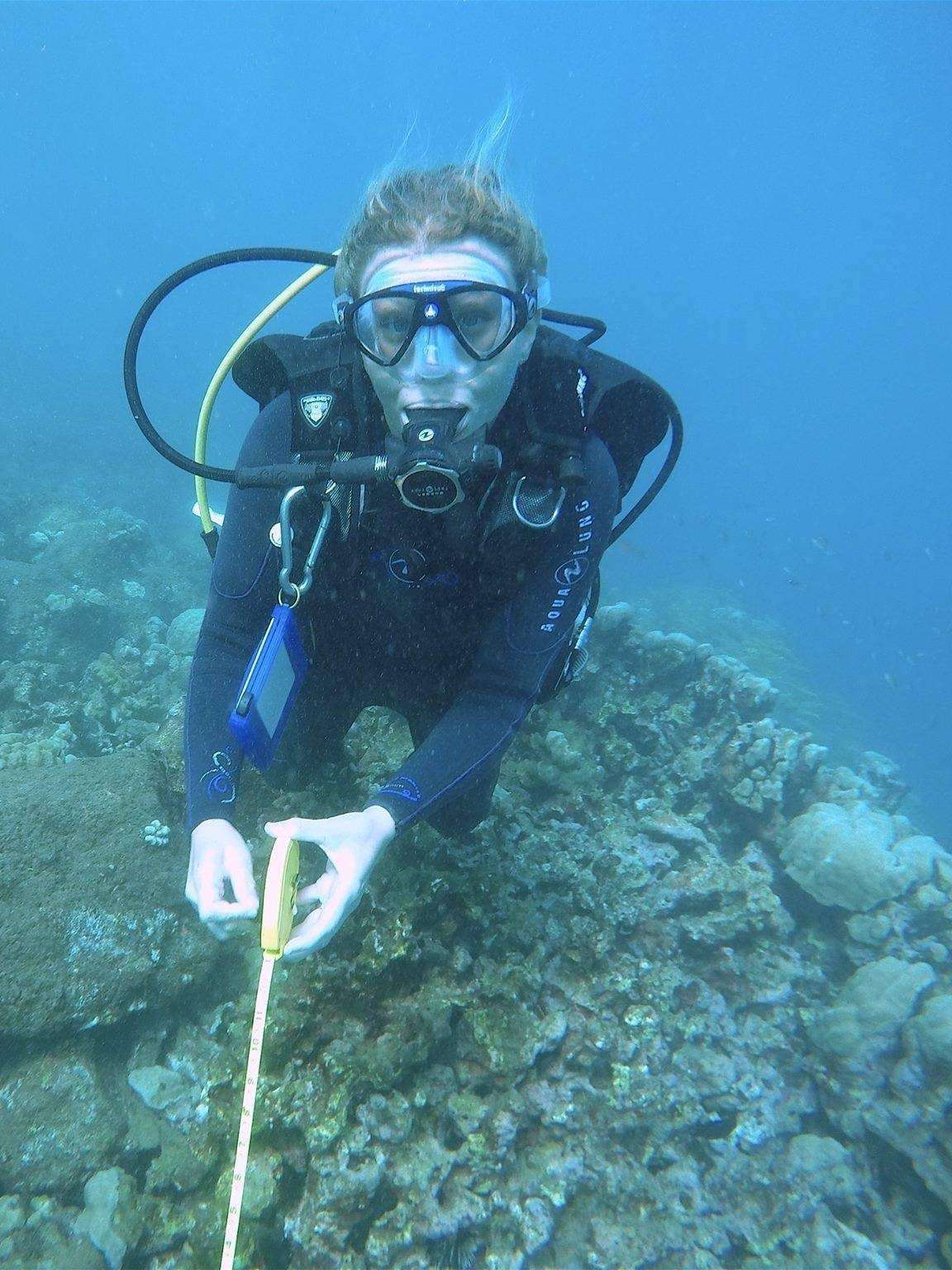 Before KC Williams became a science teacher, she traveled the world as a diving instructor. Now she combines her love for teaching and the ocean — and even takes her students across the world with her.
KC has always been fascinated by the ocean, and she had the opportunity to dive for the first time in college, while studying abroad.
"To nerd out about the ocean was really fun for me," she says.
After earning her degree in biology, KC wasn't quite sure of the path she wanted to take. So she decided to go somewhere she's never been.
She found a program in Bali, Indonesia where she could become a certified diving instructor. It was the perfect way for her to travel and work while figuring out what she wanted to do.
She worked in Bali for a few months before moving to Belize, where she worked on two resort islands. This is also where she met her husband, who she has been with for ten years now.
During her time in Belize, KC fell in love with teaching. She met a marine science teacher there who brought his students on a diving trip to see everything they had learned about in the classroom. KC could see herself doing the same thing.
KC and her husband came back to the United States from Belize, and she began working on her master's degree in fishery and aquatic science.
While completing her degree, she and her husband moved to Hawaii, where she worked as a dive instructor for two years.
She then began applying for teaching jobs with the hopes of teaching science. She landed the job she now has in California and completed an intern credential program, where she learned to teach while teaching.
KC is now in her seventh year of teaching high school biology, marine science, and principles of biomedical science. She absolutely loves her job and is happy to have chosen this career path.
She is in charge of the marine science club at the school, which helps students become certified divers. KC has been able to take her students to Belize, along with other countries, to share her love for diving and the ocean with them.
"It's way more rewarding than I ever envisioned it being," KC says.
She knew teaching would allow her to share her love for the ocean. But she did not expect to form so many meaningful relationships with her students.
The students are at the age where they are figuring out who they are and what they want to be in the world. KC loves being able to be a resource for them to talk to.
A lot of what makes her job rewarding is also what makes it a challenge.
"Teachers wear many, many hats that we are not recognized or trained for," she says. You never know what these kids are going to come to you for. They need you so much more than just learning material."
KC says that students have opened up to her about their struggles with mental health, and it becomes her job to respond the right way and get them the right help they need.
She's also an advisor for three different clubs, a volleyball coach, and a mentor for students applying to colleges.
Hearing appreciation and thanks from students is what makes all of this hard work worth it.
"They're not thanking me for teaching them how to write a good lab report, they're thanking me because their mom had cancer through the year and I was their safe home and they always felt they could come to my classroom," KC says.
KC is proud of her successful teaching and diving careers, but there was one thing missing until recently. Since childhood, she always wanted to be a published author.
Besides her love for the ocean, KC is also passionate about creative writing. She was actually a creative writing major before switching to biology in college.
She realized that she did not necessarily need a degree to write, but she did need a science degree to work in science.
During her college years, KC had been working on a mermaid-inspired, young adult fantasy novel. She showed it to one of her classmates, who absolutely fell in love with it and begged KC to finish it.
KC was able to finish what was her first full manuscript at the time, thanks to her friend's support.
Since then, she has been writing fantasy novels intertwined with elements of science.
"I just went for it," she says.
KC began following the traditional publishing route, trying to find literary agents to help publish and market her books. But when COVID hit, she discovered the world of independent authors and self-publishing.
For about a year now, she has officially been a self-published author, doing all of the writing, editing, and marketing all on her own. She writes under a pen name, which she chooses to keep private at this time.
KC says authorship is something that takes a lot of time, much more time than you often get paid for. But it has been incredibly rewarding for her through all of her hard work.
In just a few months, KC will be entering a whole new chapter of her life — motherhood!
"To know that my life will be quite literally forever changed is daunting and exciting at the same time," she says.
Her baby is due in February of next year, and she is looking forward to sharing her passions with them and seeing the person they grow up to be.
"I'm excited to see my husband become a father and fall in love with him in new ways," she says.
"Women are some of the most driven people in the world because they are not only both, they are usually more. Remember to give ourselves as much grace and care as we can — burn out is very real. Don't give so much that you feel empty," KC says.
"We have diverse interests and the only thing that is going to stop us from accomplishing things is ourselves."
You can find KC on Instagram.
For inquiries about KC's books, send her an email.