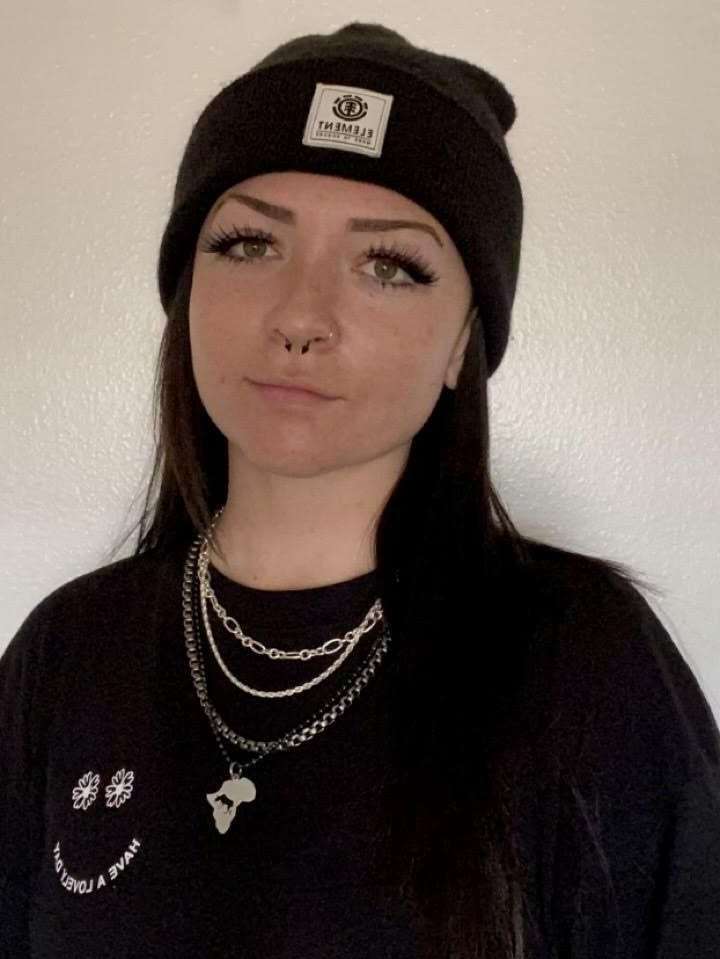 Q: When did you become interested in studying zoology?
When I was in high school, I had the opportunity to volunteer at a big cat sanctuary in South Africa for my senior year project. I had not been interested in zoology before then, and I was planning on going to college for criminology. After that volunteer trip, my whole world changed. I realized that I had a really big passion for taking care of animals but also wanted to go into a field where I could rescue big cats from the illegal wildlife trade. 
I didn't get interested in animals other than big cats until my third year in college. I took an invertebrate biology class and that just blew my mind. The passion kind of exploded from there.
Q: What was it like switching to a new major in college? Was this a challenge for you?
Transferring to a whole new school for zoology was really, really difficult. I started off at American University in Washington, D.C. and after that year I realized I definitely wanted to transfer. So I moved home to go to community college for a year while I figured it out. That transition was tough — going from a freshman in college to then living at home — but the biggest obstacle was then going to Oregon State University (OSU) as a third-year student with no way of meeting people because people in universities really make friends in their first year.
I loved OSU for the education it gave me, but I was really isolated there. What kept me going is knowing my intention in going through with the degree and knowing I wanted to make a really big impact on the world, specifically with the illegal pet trade. I wanted to use my experience to make a difference for those big cats. I'm really glad that I went through with it. I just look back at it now as a period of growth for me. I'm proud of the fact that I stuck through with it and just stayed true to my intention. 
Q: Can you talk about some of the hands-on experiences you've had working with animals?
In my third year in college, I had an opportunity to intern at the Cheetah Conservation Fund in Namibia. They rescue cheetahs that were injured in the wild or taken to be part of the illegal wildlife trade. I got to be the lead carnivore intern there because I had that previous experience in South Africa with big cats. That was just an incredible experience. I was living out in the middle of nowhere — I had to check my boots every morning for snakes. I had to look outside at night to make sure there weren't leopards. There were baboons that would watch me eat breakfast. It was so impactful on my life in the way that I view zoology as a whole and understand the bigger picture here. 
[The Cheetah Conservation Fund] rescues cheetahs, but there was also a hyena that had been caught in a nearby trap. We were going to rehabilitate him and release him back into the wild, and I got to be part of that release. Getting him into the crate — a true wild animal that has not been in captivity — was just so stressful. Luckily, it all went smoothly and we got to release him. I have the most incredible video of him bursting out of the crate and disappearing into the wild. Being able to be a part of that experience was incredible. I hope to go back there very soon. 
Q: You also post educational videos on TikTok and Instagram! When did you start doing this and what inspired you to do so?
I graduated college in June 2020, and I had initially planned to move somewhere in Africa to work with wild animals there. Obviously, that wasn't going to happen with what was going on [with COVID-19]. I was feeling really lost, and I was quarantined with my family and a friend of mine who convinced me to take everything I learned in college and put it on TikTok.
Very shortly after that, I got another opportunity at [The Wildcat Sanctuary] in Minnesota. I was juggling working 10-12 hour days and also trying to find time to make educational content. While I was there, I realized that I would spend my days really looking forward to doing the research and making the videos when I got home from work. 
Q: You created an educational, animal coloring book! Can you tell us more about it?
It is a deep-sea specimen coloring book [with] twenty different deep-sea creatures. I wanted to make a weird coloring book filled with animals that you wouldn't really find in a coloring book. I did the whole coloring book by myself.
It's educational as well. On the right page there's a picture of the animal you can color, and on the left page is a handwritten description of them. It's on Amazon! I really liked making it, and I think people like working on it. 
I'm actually working on a second coloring book right now. It's going to be out, hopefully Oct. 31. That one is going to be a lot more detailed. There's going to be a lot more animals in it.
Q: You are also a musician! How long have you been writing music?
I started playing guitar when I was 8. I was inspired by Lindsay Lohan in [the movie] "Freaky Friday," so I just wanted to play electric guitar like her character in the movie. I started a band when I was in seventh grade and started writing music when I was in ninth grade, just as an outlet for everything going on in middle school and high school. We eventually got to a point where we were playing "Battle of the Bands" shows, and our last show [during my senior year of high school] was a full-circle moment for me. It was at the House of Blues at a "Battle of the Bands" where I was playing electric guitar, like Lindsay Lohan in "Freaky Friday." We ended up winning! 
Once I realized that I was going to college, I decided to do a solo music career. I was trying to figure out a name for myself. It was around the time I was getting ready to go to South Africa for the first time, and my friends were jokingly calling me "Simba" from "The Lion King," and I was like, "You know what? That's actually a pretty cool name." So I started releasing music under the name "Simbah," and it kind of just stuck from there.
The first time I put out music that was 100% done by me — music, production, singing, everything — was 2020. I released an EP with four songs on it. I haven't done music since then because a lot of my creative flow has been taken up by TikTok, which I love. I would love to find time to make more music and hopefully that will happen very soon. 
Q: What are some future goals you have for yourself?
A short-term goal would be to go back to the Cheetah Conservation Fund and use my platform to highlight what they are doing.
I want to eventually use my platform to bring more awareness to the illegal wildlife trade and potentially open my own sanctuary in the U.S. There are so many big cats that need to be rescued.
Check out Lindsay's Instagram and TikTok. 
You can find Lindsay's music on Spotify, Apple Music and YouTube.