Monica Villa has always had a passion for creativity. For as long as she can remember, her biggest aim was always to find the best way to express herself. Growing up, she learned to play the piano, sing and act, and slowly these creative endeavors began transcending into the career she has built as a content creator.
"A lot of people would always tell me, 'You're so goofy! I don't know why you don't start making videos!'" Monica says. "But during those times I was very nervous to put myself out there and subject myself to judgment. I had a very negative stigma of what social media was, but now I think if you do social media content in a good way, the judgment can be good."
Monica's first videos on Tiktok revolved around showcasing things that her mom did on a day-to-day basis as a Mexican-American parent. The videos quickly blew up as millions of fellow members of the Mexican-American community related to the content Monica was producing and found comedic relief in the fact that she was showcasing niche experiences that were a part of their lives growing up as Mexicanos in the U.S. Since then, Monica has gained over 1.4 million followers and 52.7 million likes on Tiktok, as well as 80,000 followers on Instagram.
"My mom being herself gave me the courage to start creating content, and after that I progressed into recording things that I saw in my day-to-day that inspire people like me — Latinas, Chicanas," Monica says. "I got the courage to start creating content that reflected more of my Mexican-American heritage."
Currently, the videos that Monica publishes typically showcase her portraying different roles such as nurses, teachers, doctors and lawyers. What makes her videos unique and relatable, however, is that these roles are always occupied by her rendition of a Mexican-American personality. Monica takes inspiration from other members of her community occupying these major roles and uses her platform to represent them in positive and wholesome ways.
"My favorite part of creating this type of content is shedding light [on the idea] that Latinos, Chicanos [and] Mexican-Americans can take up these spaces," Monica says. "I try to take this stigma that we don't know certain things and can't fulfill certain roles and flip it around. These ideas came to me because more and more, we are taking up spots. I love that I'm seeing people who are just like me blossoming into these huge careers. It's important that people see that Mexican-Americans aren't just what they see on TV. We're also the people taking up these major important jobs and roles, and we're out here representing our community."
As a first-generation Mexican-American, Monica underwent unique experiences as she grew up in Texas and still felt closely connected to her Mexican roots. She recalls growing up as a time filled with a myriad of challenges and learning curves, and she felt as though she never had people around who fully understood her.
"My mom always made it a point to speak Spanish," Monica says. "She always enforced it. Sometimes I would go to school and think that my accent was a little too thick for people around me. I would be scared to talk or read in class because I didn't sound like everyone else, and some of those words were really hard. They put me in ESL and dyslexia classes to help me because of the simple fact that it was so difficult to transition from Spanish to completely English. It was very hard to be in those same spaces with people who weren't like me."
Instead of viewing this as a negative experience, however, Monica has chosen to remain nostalgic and grateful for all the people who assisted her in the difficult process of growing up bilingual. As a first-generation Mexican-American, she was a pioneer in making the most of the benefits that a life in the U.S. could offer. By learning to appreciate her cultural duality, she has become an influential spokesperson for millions of Mexican-Americans who went through the same experiences as she did growing up.
"When I make Tiktoks about people like teachers, for example, it takes me back to when I was a little kid, and my teachers would come up to me and say, 'Listen, I understand it's hard for you to learn English because it is not your first language, but I got you. I support you,'" Monica says. "Nowadays, I like to shed light on those people who impacted my experience as a Mexican-American and helped me get to where I am now."
Monica believes the most rewarding aspect of her career thus far has been looking back on who she was when she started making videos and seeing where she is now. In the beginning, she was unsure of which direction her content would go and what the results of producing it would be. Now, Monica is not only a successful Tiktok personality, but also a major advocate for Mexican-American rights, which is a passion she discovered through content creation.
"I've gone to media events that have made me realize that I'm here and I'm taking up space," Monica says. "I've been the only Latina in the room, which I've felt so awkward about. I'd get in my head and think, 'Maybe I shouldn't be here. It doesn't feel right' — but no. We need to open doors and make spaces. They need to get used to this. It's crazy to see how many people are thankful for me shedding light on these day-to-day situations we go through as Mexicanas. I want us to take up room, take up these roles. People need to make space for us."
Monica has an enthusiastic spirit and manages to stay positive and grateful even in times of adversity for advocacy all over the country. Her drive to succeed is powered by the many communities that access her content seeking comedic relief, a heartwarming message and powerful representation, all in one.
"A lot of my content revolves around me playing the role of a nurse, and I remember in the pandemic it was a huge thing because nurses were so overworked, and I really thought people needed to see how important they are and how they were doing their jobs in such a graceful way," Monica says. "When I create content I tend to make it positive because I know there are people going through bad things on a daily basis. I get messages saying, 'Thank you so much. You made me laugh and you have no idea how much I needed it. You put a light in my day.' I like to share content that I know will bring someone a smile, or that they'll be able to relate to and it will warm their hearts."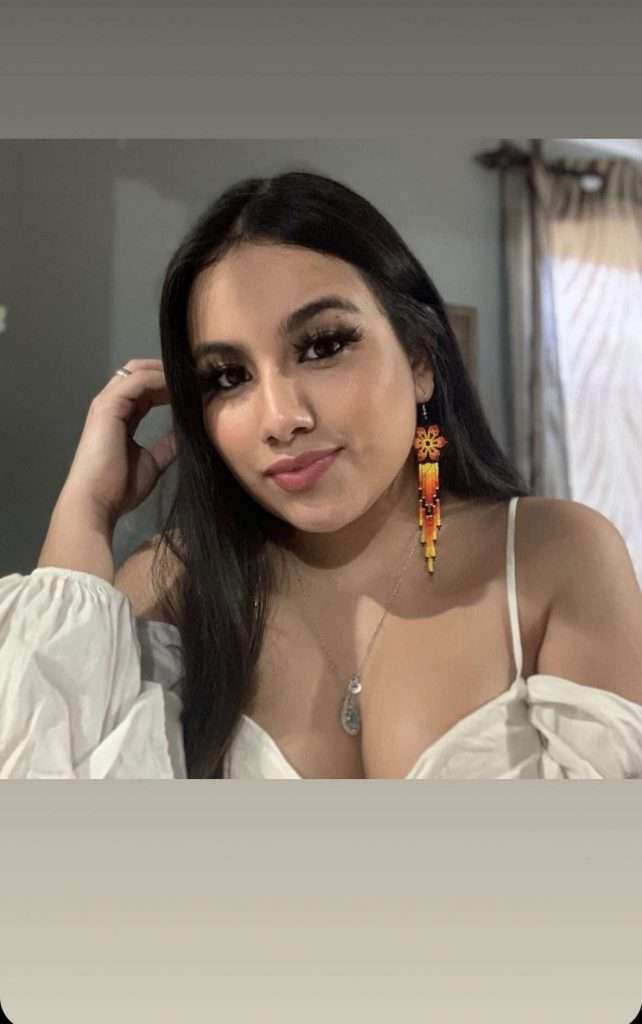 To Monica, "she can be both" means that women in her community are allowed to take up Mexican spaces as well as American spaces, and use them as vessels for their passions.
"My mom is my biggest inspiration in that regard because not only does she do both, but she does all," Monica says. "She is the strongest personality that ever existed, and nothing has ever stopped her. She couldn't speak English, and that never stopped her from getting jobs or doing anything. Us Mexican-American women always do both. We're in the Mexican world and we're in the American world all the same."
Content creation jump started a self-discovery process in Monica's journey that has helped many people connect to their cultural heritage and overcome some of the struggles brought forth by being an immigrant in the U.S. Monica's content has also proven to be educational to people outside of the Mexican-American community who want to showcase support and raise awareness for the realities the community faces.
"When I go to Mexico, I am American," Monica says. "I'm not even Mexican to them. Here, it's also the same thing: people tell me I'm not American, I'm Mexican. This inspired me to start making content for people like us. I feel like we are underrepresented. We have both roots, but I, for example, have advantages that my mom wishes she could've had. Growing up was a little hard, but as I grew up I realized that it's beautiful that I can relate to both cultures. I'm American, but I'm also Mexican and that's the best thing ever. I love it and wouldn't change it for the world."
You can keep up with Monica's content through her TikTok, Instagram and Youtube, all under the handle @monitoocrazy.