Despite working a full-time job as a sales lead at Fabletics, Princess Poki is an accomplished and enthusiastic game streamer and fashionista. 
Princess Poki has played video games as far back as she can remember.
She started a casual gaming channel because not many exist, and even less exist with female gamers.
"In this cozy, wholesome niche, I wanted to carve a space just for us [female casual gamers]," Princess Poki says.
The first game Princess Poki started streaming was Animal Crossing for the Nintendo Switch.
"The pandemic hit, and I'm like, I don't have anything to do, I'm going to be home and Animal Crossing came out," she says. "I was like, OK, this is it. This is going to be my time. I took that, and I ran with it."
For a while, Princess Poki focused on wholesome games developed by Nintendo for the Switch. Eventually, she expanded to include indie developer games like PHOGS!, Littlewood and Spiritfarer. Plus, she added PC games from Steam.  
Her favorite wholesome games are farming and cat-themed, such as Harvest Moon, Story of Seasons, Calico and Cat Cafe Manager. 
During the planning process of her online persona, Princess Poki put a lot of thought into choosing the perfect name. She wanted an alias to separate her online life from her personal life.
"Poki" stemmed from one of the content creators she follows, Pokimane. 
"I felt like the name was super important," she says. "[Poki] just stuck. It felt like it was a representation of me. [Princess Poki] embodied how I want to feel about myself. I wanted to feel like a princess. I wanted to set a higher bar for myself and reach that, and I feel like I made it."
Princess Poki has experienced various levels of success on different platforms, with TikTok and YouTube drawing the most significant following.
Her favorite job perk is connecting with people like indie developers and other female content creators to collaborate on gameplay or for interviews.
"I've made so many connections," Princess Poki says. "I love connecting with people [and] hearing their stories and perspectives on video games, the industry and how it's changing." 
One of the interviews Princess Poki conducted was with indie game developer Rafael Martin.
"Now that I can talk to developers, it has really opened up a new world for me," Princess Poki says.
Princess Poki did not realize all the work involved in becoming a video game streamer, but she regrets none of it.
"Being a creator has a lot more layers to it than I had originally anticipated, but I love it so much," she says.
A future goal for Princess Poki, inspired by the Peachy Keen Games developer Kells Tate, is to try game development.
"I felt like it was a big far-off boys' club, but then I saw [Kells] and thought anybody can do it," she explains.
Currently, Princess Poki is working on a visual novel fashion game, and she intends to make more fashion games after this project is complete.
Starting out, Princess Poki doubted she could make it on YouTube because of the monetization requirements. Still, she kept pushing out content, and it paid off.
"When I hit my first thousand subscribers on YouTube, I bought balloons," Princess Poki says. "I was so excited. When I got my first YouTube paycheck, that was a really big milestone for me. Also, when I got my first sponsor paycheck, that was a huge moment. I felt like everything started becoming more valid.
"[Video game streaming] is a viable thing. People see me, they see my work, they enjoy me and they're paying me. It was a real moment for me. I can one day make a living from this, and it will be really big."
Having a strong relationship with her subscribers is essential to Princess Poki. She began creating content as a fashionista, a devoted follower of fashion, to share more of her personality and personal interests, such as fashion and makeup — aspects her followers requested.  
"I reviewed a couple of games with fashion in them, and [my viewers] really enjoyed [the fashion] aspect of my channel," Princess Poki says. "Makeup is so important to me. I love using makeup to express myself. One day I want to have a makeup line."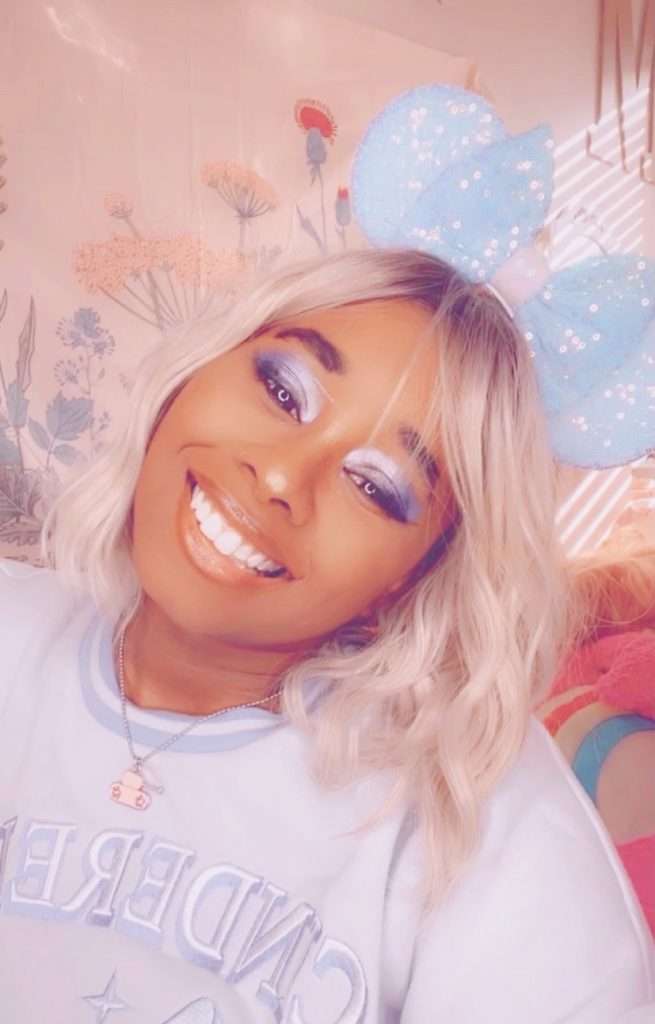 On TikTok, you can find Princess Poki talking about makeup, showing off her cute knickknacks and dazzling her audience with gorgeous outfits. 
For Princess Poki, being able to express herself is one of the best things about being a fashionista, but she did have to work on overcoming her self-doubt.
"I grew up a very quirky kid," Princess Poki says. "I was bullied. I was homeschooled until 10th grade, so I didn't really fit in anywhere.
"Overcoming my self-doubt was my biggest challenge. It's still something that I'm working on, but it's becoming a lot easier."
To balance her multiple roles and maintain her mental health, Princess Poki knows when to take breaks from her online work.
"Working on myself, I took a very big break," Princess Poki says. "I knew I wasn't performing my best, and I wanted to give them the best version of myself. I know that's not always possible, but I wanted to make sure that I was going to be in my best space and give myself the best fighting chance [against negative comments and trolls] so I wouldn't be affected."
Princess Poki cannot express her love and devotion to her followers enough.
"[My followers] have a big role in my content," Princess Poki says. "I want to give them what they want. I want them to keep coming back for more. I feel like I have a really good relationship with them. I love my subscribers and followers. They're amazing. They push me to be better every day." 
One of Princess Poki's future goals is to start a blog.
"I want to get more into lifestyle content," she says. "My subscribers are like, 'We really want to see you! We want to see your life. We want to see how you operate day-to-day.' I want to give that to them so bad."
Princess Poki's primary mission is to combine her video games and fashion content into one instead of having them as separate entities.
To other women who want to become YouTube content creators for video games or fashion, Princess Poki says, "Be authentic to yourself. Don't follow the trends. Just do what feels good and natural to you, and it will never feel like work."
Follow Princess Poki on YouTube, Twitch, Instagram, Twitter, Facebook and TikTok.