Having a career in healthcare does not mean you cannot tap into your artistic, creative side. This is especially true for Raquél Pérez.
Raquél is a registered nurse (RN) who worked in the neonatal intensive care unit (NICU) for over a year before starting her current role as chief nursing officer for Gales, a company that makes shoes specifically for nurses. 
She knew she wanted to be a nurse in high school after volunteering in her local hospital's emergency room. She enjoyed the fast-paced working environment and being able to help others.
Raquél attended the University of Rhode Island for her Bachelor of Science in Nursing. She worked extremely hard to become a RN, having to take the challenging certification exams multiple times before passing. 
Failing the exams was a struggle for Raquél.
"I was questioning if I was good enough for the profession," she says.
Raquél's perseverance and optimism allowed her to push through. She realized how failures can sometimes turn into unexpected blessings, which Raquél calls "failing forward."
During this difficult time before she became licensed as a nurse, she decided to work with Americorps. This was not only a way to help her pay to take her board exams, but it allowed her to make a lot of new connections and acquire new skills. 
"It didn't feel revolutionary until I finally did pass and became a nurse and was working in the profession," Raquél says. "I got to look back on it and think to myself, 'I probably wouldn't have this job right now if I didn't have the skills I got from Americorps, which are talking to people and acing that interview."
Not passing her exams at first felt like a failure, but it was an example of "failing forward" because it propelled her to do something she never would have done before and shaped her to be a better person. She took the no's and made opportunities out of them.
"I've had a lot of no's brought my way that have been more powerful than the yes's," Raquél says. "I'm failing forward constantly. Things come full circle."
Like many others, working on the frontlines during the COVID-19 pandemic caused Raquél to feel burnt out and overwhelmed. She recently started a new position working for Gales, where she is in charge of marketing, communications and community development — all while being able to give back to her nursing community.
Gales is a brand all about supporting nurses, offering scholarships to nursing students and creating products to help make nurses' jobs easier. Working with Gales has allowed Raquél to make the transition from working with patients to working to support other nurses.
Though she is not currently working as a nurse, Raquél will consider picking up shifts here and there in the future. She will always be a nurse.
"I firmly think that nurses deserve the world," she says.
A common misconception about nursing is that nurses are simply "assistants to the doctors." While doctors and nurses do collaborate to help their patients, nurses have their own independent skills that doctors do not have. Nurses are constantly providing hands-on care to their patients.
The patients were the reason Raquél wanted to become a nurse in the first place.
"At the end of the day, healthcare should be about caring for people," Raquél says. "That's what it is for me."
Before she started her journey in healthcare, Raquél was a singer and performer.
"I've been told I was singing in diapers," she says.
Growing up, Raquel was always heavily involved in the performing arts, from musical theater and choir to pageants. Her biggest idol is the Mexican-American singer Selena Quintanilla, as Raquél is half Hispanic and relates to the singer's journey.
Singing is an outlet for her, a way to release her emotions through music. She loves singing songs that allow her to express these emotions, especially Broadway music.
Raquél's singing has led to opportunities like singing for the Pawtucket Red Sox, a minor league baseball team in her home state of Rhode Island.
Singing has also been a gateway for Raquél to pursue her modeling career.
Raquél entered the modeling world through pageantry as a teenager. She learned about the Miss America pageant and how they provided college scholarships for students. So, she began entering pageants and was hooked for several years, singing songs during the talent portion of the pageants.
Participating in pageants helped Raquél with public speaking and interpersonal skills, and got her in front of the camera. This allowed her to become more comfortable with her body.
"It felt very freeing and empowering to be able to command a camera or a stage and to give back to the community, too," Raquél says.
This past year, Raquél made it a goal for herself to become an agency-certified model, and she has succeeded. She was accepted into a local agency where she can now be booked for various jobs as a model.
Though Raquel can choose to pursue any type of modeling, she especially loves the runway.
"Modeling makes me feel like a version of myself that I don't get to express everyday," Raquél says. "When I model, I get to be whoever I want, like taking on a different persona."
Through all of her endeavors, the one thing that keeps Raquél going is her family. She will always be proud to be the oldest sibling in a family of immigrants.
"Being the first in many things and knowing how far we've come inspires me," she says. "I'm very grateful for my family's humble beginnings because I think I might not have the work ethic or various passions that I do if those didn't exist."
She is proud of her Hispanic heritage and in 2019, she had the opportunity to give a TEDx talk about Latin American media representation. 
In her talk, Raquél discussed the lack of representation for Latinos and Latinas in the media, as well as the problematic stereotypes depicted in film and television.
"There is not enough representation in front or behind the camera, and when it is attempted, stereotypes are often portrayed," she says in the talk.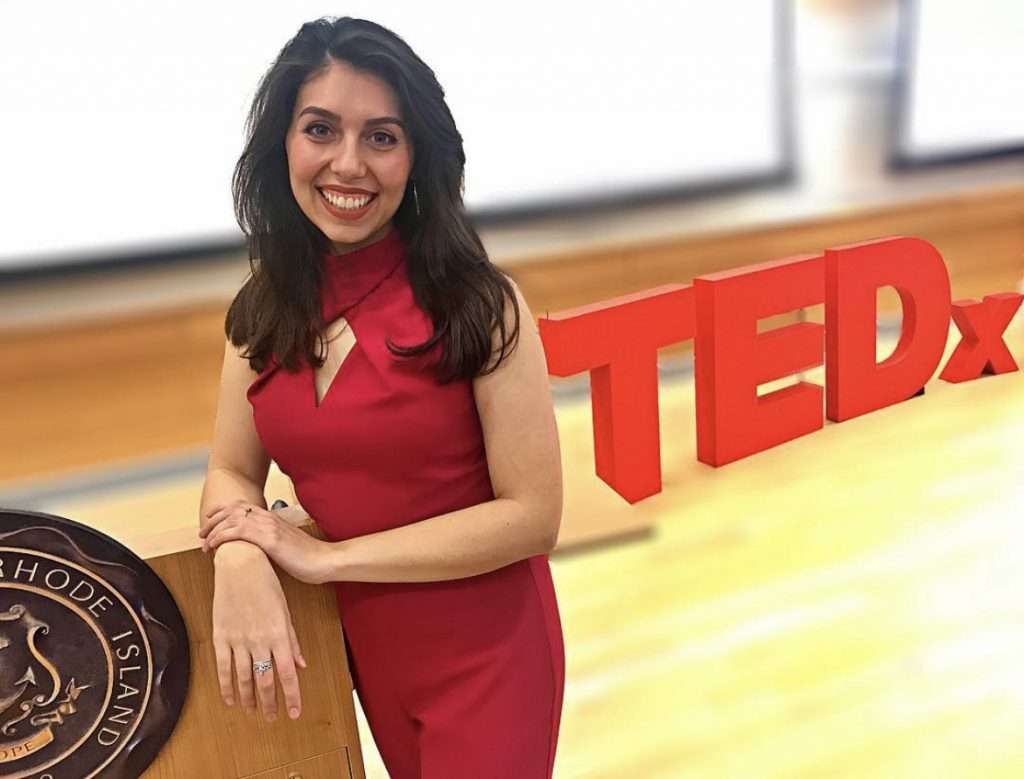 Raquél hoped to shed light on an important issue close to her heart, weaving her family's immigration story into her talk as well.
In the future, Raquél is looking forward to exploring the other parts of herself that she loves, like modeling and singing.
She hopes to support nurses as much as she can in her new role at Gales, advocating for higher wages, a national support union and the importance of wellness.
"With STEM professions, sometimes it can be very black and white, but I wanted to be gray," Raquél says. "Having a platform like She Can Be Both that shows the 'gray' parts of women celebrated is important. You can be whatever you want, and that is very empowering."